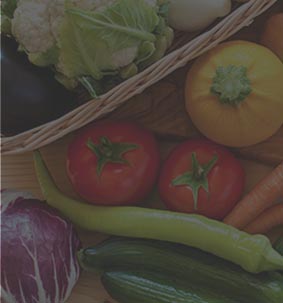 In culinary terms, a vegetable is an edible plant or its part, intended for cooking or eating raw. Vegetables are eaten in a variety of ways, as part of main meals and as snacks.
The nutritional content of vegetables varies considerably, though generally they contain little protein or fat, and varying proportions of vitamins, provitamins, dietary minerals, fiber and carbohydrates.
Vegetables contain a great variety of other phytochemicals, some of which have been claimed to have antioxidant, antibacterial, antifungal, antiviral and anticarcinogenic properties."
WHAT VEGETABLES RANGE WE HAVE AVAILABLE
ARTICHOKE
ASPARAGUS
BAMBOO SHOOT
BANANA BLOSSOM
BANANA LEAF
BEAN
BEETROOT
BITTER MELON
BITTER MELON LEAF
BROCCOLI
BRUSSEL SPROUT
CABBAGE
CAPSICUM
CARROT
CAULIFLOWER
CELERIAC
CELERY
CHOKO
CORN
CUCUMBER
EGGPLANT
ESCHALOT
FENNEL
HORSERADISH
KALE
KOHLRABI
LEEK
LETTUCE
LONG MELON
LOTUS ROOT
MUSHROOM
OKRA
ONION
PANDAN LEAF/PANDANUS
PARSNIP
PAW PAW BLOSSOM
PEA
POTATO
PUMPKIN
SILVERBEET
SNOW PEAS
SQUASH
SUGAR SNAP PEA
SWEDE
SWEET POTATO
TARO
TARO SHOOT
TOMATO
TURMERIC
TURNIP
WINGED BEAN
WITLOF
ZUCCHINI
ZUCCHINI FLOWER
DIRECT FROM THE GROWER
We buy direct from the growers daily, ensuring you receive only the freshest produce available.
Subscribe to our weekly market update report and stay ahead of the seasonal changes.